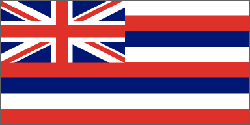 Hawaii
"Aloha State (1959)"
Motto

Ua Mau Ke Ea O Ka Aina I Ka Pono (The life of the land is perpetuated in righteousness)

Capitol

Name Origin

Uncertain. The islands may have been named by Hawaii Loa, their traditional discoverer. Or they may have been named after Hawaii or Hawaiki, the traditional home of the Polynesians.

Statehood Date

Aug. 21, 1959 (50th)
Cities in Hawaii
NOTE: Not all cities are displayed. Please narrow your selection by using the search above.
Official Symbols
A state's official symbols represent the composition and culture of the land and people who live and have lived here. Below are the symbols of Hawaii along with the year they became official.
| | |
| --- | --- |
| Flower | Hibiscus (Yellow) (1988) |
| Song | "Hawaii Ponoi" (1967) |
| Bird | Nene (Hawaiian Goose) (1957) |
| Tree | Kukui (Candlenut) (1959) |
Demographics
Population Density

188.6 people per square mile
Geography and Weather
Land Area

6,423 sq mi. (16,637 sq km)

Lowest Elevation

0 ft (0 m)

Average Elevation

3030 ft (923.544 m)

Highest Temperature Recorded

100°F (38°C) on April 27, 1931

Lowest Temperature Recorded

12°F (–11°C) on May 17, 1979